Create your own RRRummy
Several tile sets are included, like Numbered tiles, Tiles with card symbols, Playing cards, Wooden tiles, and even Maya pebbles.
You can download even more tile sets from our website.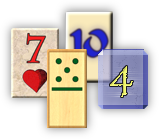 Create your own playing experience
Play your games with your favorite picture in the background: your grandchildren, your pet, or a relaxing landscape. Add any picture that you took yourself or that you downloaded from the internet.
If you want an even greater personal playing experience, you create your own theme. You combine colors and images for the table, your hand, etc. and add sounds to be played at various events.
To complete the experience, choose any of the included tile and card sets, or download additional sets from this site.
Add any picture as the game background
Design your own theme from images and sounds
Play with a choice of tile or card sets
Add more player names
When other people are playing RRRummy on your computer, you add extra player names.
Your scores will never be touched by other players!
Design your own games
Change the rules of any of the built-in games to match the exact way that you like to play.
Or combine the many game rule options in new ways and explore thousands of possible new original game variations.
Examples of game rule options
Play the exact game you are used to
Explore new game variations
Many thousands of possible game types
The six computer players are named Oliver, Jessica, Sebastian, Beatrice, Rosaline, Edgar.
But if you don't like those names, you can name them whatever you prefer.
---
Valid for all your computers and laptops
Lifetime free upgrades
Four people play together on a single license
30-day money back guarantee