Improve your Tile Rummy game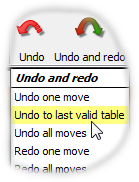 You can always undo your moves and redo them.
If you are stuck, a single mouse click takes you back to the last valid table!
Practise against the computer
Become a better Tile Rummy player with RRRummy. Learn to spot combinations by watching the computer play. Or ask for a hint and let the computer show you the moves that you didn't find yourself.
Don't be afraid to try big combinations. If it doesn't work out after all, you can always undo your every move.
Watch the computer play and learn
Get hints while you play
Undo all your moves
Try new playing strategies
Try new playing tactics and develop your personal playing style. Remember, the computer will never complain about the way you play!
Compare strategies by creating new player names, and playing in a different style under each player name. In the end, the scores will tell you which strategy works best!
Try new playing tactics
Compare different strategies
Find your personal playing style
Free 15-day trial

Looking for new playing strategies that you can use in RRRummy or Tile Rummy?
You'll find strategy tips elsewhere on this site!
New to the game?
Learn the RRRummy basics in a tutorial game.
And watch the status bar for hints what you can do at any moment during the game:

---
Valid for all your computers and laptops
Lifetime free upgrades
Four people play together on a single license
30-day money back guarantee