About us
YPR Software B.V. is the developer and publisher of RRRummy, the Tile Rummy software game for Windows, Macintosh and other computers, that lets you play against computer players or online with other people.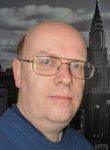 Yvon Rozijn
YPR Software B.V. is a one-man independent software company, run by Yvon Rozijn. As you can read in the history of RRRummy, I have been building up expertise in RRRummy software since 1992.
The company's goal is to create Tile Rummy software that gives you the best possible playing experience. For that reason, I have put much effort in developing the artificial intelligence (AI) of the computer players in RRRummy. For the same reason I added many game rule options in the game, so you can tailor the game to fit what you are used to.
I also strive for excellent customer support. If you have a question or a problem with RRRummy, don't hesitate to contact us and I will answer promptly (usually within 24 hours). The good thing about a one-man company is that you always get in touch with the ultimate expert in the software - the maker himself.
I will keep adding new features to RRRummy as per your request - as long as they are feasible. And as always, all future updates and upgrades will be free. That's because I believe that nobody likes to pay a substantial amount of money again for just a few added features.
Our address:
YPR Software B.V.
Westerd 39
7941 GA Meppel
The Netherlands
KvK Noord-Nederland 040 80833
BTW/VAT NL 8154.53.127.B01
I also whish to thank my translators, who did a great job translating RRRummy and this website into several other languages.