Play RRRummy - solo and together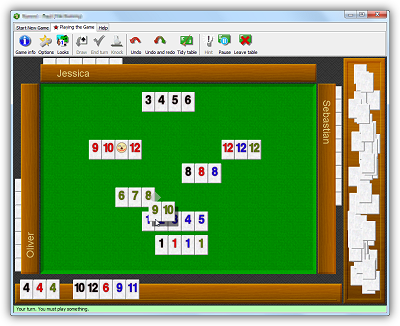 Play games like Tile Rummy
Play solo against the computer
Play multiplayer games with other people
Get together with with friends or relatives
Meet other Tile Rummy fans and make new friends
Download
Free 15-day trial
For Windows, Macintosh, Linux

•
Follow us on facebook
for news and tips
•
Share this page
with your friends
100% Ad-free
:
No delays · No distractions · No privacy worries
Also available:
Pup Rummy
Play a selection of RRRummy games against the computer, on your
iPad, iPhone, iPod Touch, or Android tablet or phone
Play RRRummy against the computer
Have years of fun playing your daily game of RRRummy. Try and beat the computer players, at the difficulty level that suits you best, in one of the many game variations.
Keep your brain in shape!
Meet six different computer players
Play at your own difficulty level
Choose from many game variations
Play RRRummy together
Get together with your relatives and friends, even when you are miles apart, in a multiplayer game of RRRummy.
Meet other Tile Rummy fans from all over the world and make new friends.
Play RRRummy with your parents, or grandchildren
Play with four people on a single license
Win stars in a competition
Included games
Tile Rummy type:

RRRummy, Dutch Rummy, Tiles 50, Pup Rummy, Easy Rummy

Manipulation type:

Carousel, Shanghai

Gin Rummy type:

Jin Rummy, Tonic Rummy

Original variations:

Rozzy, Windmill, Accelleration
...and more.
You can add your own game variations, too!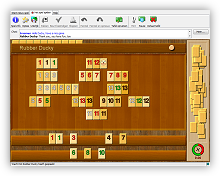 Free 15-day trial
Basic Game Rules
Play your tiles as 3 or more numbers in sequence, of the same color:

4

5

6

Or play your tiles as 3 or 4 equal numbers in different colors:

4

4

4

You may rearrange tiles already on the table
Jokers can represent any other tile
If you can't play, you draw from the stock
When you play all your tiles, you win
These are the basic rules of the game. Each game variation has its own additional rules.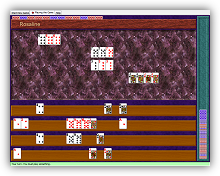 Improve your game with RRRummy
Practise on the computer and become a better Tile Rummy player. Learn from watching the computer play or let RRRummy show you the moves that you didn't find yourself. Try out and compare different playing strategies.
Practise with computer players
Get hints while you play
Try new playing strategies
Create your own RRRummy
Play with your favorite picture in the game background, like your grandchildren or your pet. Choose any of the several beautiful tile sets available.
Play with the game rules that you like best. Explore thousands of possible new game variations.
Add your own background picture
Download additional tile or card sets
Design your own game variations
Yes! I'll buy RRRummy now!
Order securely online
Buy once and put RRRummy on all your computers and laptops
Get free upgrades for life
If you are not satisfied, return within 30 days for a full refund
We will never spam, sell or share your e-mail address
---
Don't want to download? Buy RRRummy on CD!
You may need to download free upgrades in order to play online with other people

Buy RRRummy


on CD
RRRummy on CD: $20

99
Not ready to buy yet?

Download our free trial version and try RRRummy for 15 days

Download

Free 15 day
Trial Version

For Windows, Macintosh, Linux

Also available:

Pup Rummy + for Windows and mobile

Play a selection of RRRummy games against the computer
Add your own game types
RRRummy needs Java - freely available for many different operating systems.