Preferences: Getting help (download version only)
In this window, you can choose where RRRummy will look for help. If you set it up to use the installed help files, you can also choose the language.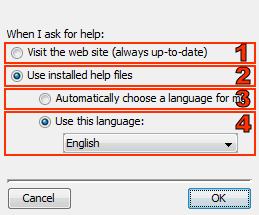 1. Visit the web site
If you check this option, RRRummy will visit the web site for getting help. This is the recommended setting, because the help on the web site is always up-to-date, and may be available in more languages than what was available at the time when you installed RRRummy on your computer.
2. Use installed help files
If you check this option, then RRRummy will use the help files on your hard disk, that came with your RRRummy installation. Use this option if you don't have a permanent internet connection.
With this option, you can choose what language to use:
3. Automatically choose a language for me
If you check this option, then RRRummy will choose the best available language for you. If it can't find any, it will use English.
This option has the advantage that when a better fitting language is added to RRRummy, it will be chosen automatically for you.
4. Use this language:
If you check this option, then you can choose a language yourself from the selection box.