Setup computer players
In this window, you can change the name of computer players, and mark computer players as
favorite
.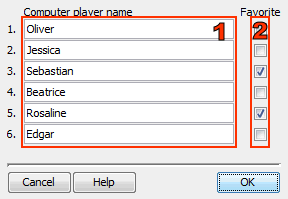 1. Computer player name
Here you can type a new name for each computer player, if you don't like the built-in names.
2. Favorite
By default, every computer player has an equal chance to appear as player at a table. But since each computer player has its own playing strategy, you may like some players better than others.
If you check the Favorite box for one or more computer players, then those players have a bigger chance of being selected at a table than others.